Why Interactive Digital Signage touch screens will become trendy?
Advantages of interactive digital signage
Digital signage has been part of retail planning for decades, as the pledge of easily exchangeable and updatable content was an attractive upgrade from old published and lightbox signs. Interactive signage goes indeed further, drawing guests in with the pledge of direct commerce with the signs themselves. The more a user interacts with an object, the more likely they are to form a connection, and potentially place an order. The use case may not feel as directly obvious as the original shift from analog to digital signage, but the results can be important.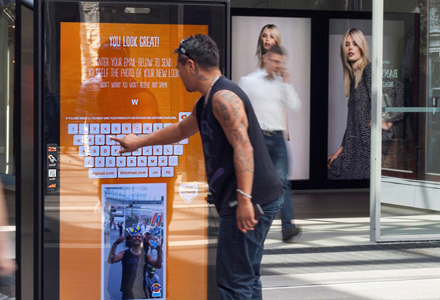 How to interact with the user?
Interactive digital signage refers to signs that allow for customers to interact directly with them. This can be via a number of types of input — most generally touchscreens, but also via camera, RFID or Bluetooth connectivity, smartphone connectivity, motion tracking, far-field voice and more. Allow users to TOUCH, SWIPE and INTERACT with your Digital Signage Panels.
5 Trends to Shape the Future of Digital Signage
1. AI and automation
Artificial intelligence (AI) and automation are being embraced across all industries. Digital signage is no different. activities of Monitoring and managing by digital signage can be enhanced with automation. AI can decide whether certain content should be shown to a specific user after analyzing multiple databases and indicators. It can analyze a person's purpose when they are in front of a screen and determine the appropriate advertisement for that particular moment.
2. Interactivity
Fast-food chains and restaurants have been some of the biggest adopters of interactive signage. From touch screen kiosks to tabletop ordering with built-in gaming, to entire games rooms, customers have been quick to accept the development of interactive digital signage. This technology has not been limited to the catering industry. Retail sectors and direct advertising are also embracing it. Along with more and more businesses moving towards interactive displays, the future of digital signage looks bright.
3. Cloud-based deployment
Historically, digital signage was updated with USB drive or a memory card locally. While this was the best option for some time, it did mean screens were difficult to up to date in real-time as the content had to be created remotely and then loaded onto the screen manually. There was also the risk of misplacing the external device, which is both a nuisance and a security breach. Cloud technology has changed this. Many digital signage solutions are now offering cloud-based update service which allows instant and secure updating of digital signage. This is also a scalable way to push out the content to multiple screens simultaneously at the touch of a button.
4. A perfect streamlined experience
It's quickly becoming normal to see screens in every supermarket and store you enter. We're expecting Smart displays can show relevant adverts to shoppers and guide them to the correct area of the store, meaning customers no longer have to spend time searching for an assistant to point them in the right direction. Whereas supermarkets and stores are embracing this change as it can enhance the customer's journey and provide a more streamlined experience.
5. Streaming live content
Thanks to the cloud-based deployment we mentioned earlier, it's now easier than ever to stream live content to your digital displays. you can do it with the most appropriate digital signage solutions no matter whether you want 24-hour news in your reception area, live sales updates in your office, or a Twitch feed in your games store. We're supposed to see live content move to the next level with live interactions from people viewing the digital signage. Touch screen displays mean people can tap the screen to indicate reactions or send messages, and AI camera integrations mean viewers can even play interactive sports games!
No related products temporarily.